We have recently been working on an estate sale for a little lady that I have yet to meet. She comes by the times when we are gone, and we work while she is away. There are items in that house that are eighty – five years plus inside. Everything from love letters to vintage clothes; priceless in and of themselves. Name -brands that are classics and still remain popular in our culture in 2016. There are clothes that represent decades, with gloves and shoes to match.
The girls that work with me, who I might mention, are a tad bit younger than I are amazed at the simplest things. Items like slide disk's that hold family memories but only can be seen with a screen and protector, or a babies christening gown that is as long as I am tall and holds handwork from someone who cared enough to make it and memories of a precious little one whose parents adored and cherished. Cat-eye glasses & scarves that she wore some years back. Boxes and boxes of newspaper clippings or magazine pages of ideas she liked once upon a time or a recipe she wanted to try. There are sets and sets of dishes, and I think while we are processing all of these pieces of china about the dinners that were served on them. These are dishes that held food prepared by someone who loved enough to make dinner special. I imagine a table set with dishes and glasses, silver and table covers.
Interesting is how preparing for an estate sale, you witness so many stages of one's life. I've thrown garbage bag after bag after bag away that is full and heavy with greeting cards that someone sent to her for Christmas, for birthday, and Mother's day, or a letter to say, "I'm thinking of you" Letters that a son apologized to his mother and tried to help her understand, or class reunion photos, and "where are they now" letters. I have read a list of what she bought someone for Christmas and ledgers of every penny that was spent for those gifts. The clothes she wore represent the years she has lived. The photos prove the love for a dog and for the travels they made. The dog as a puppy, the dog with the kids, and the dog sleeping, and getting older.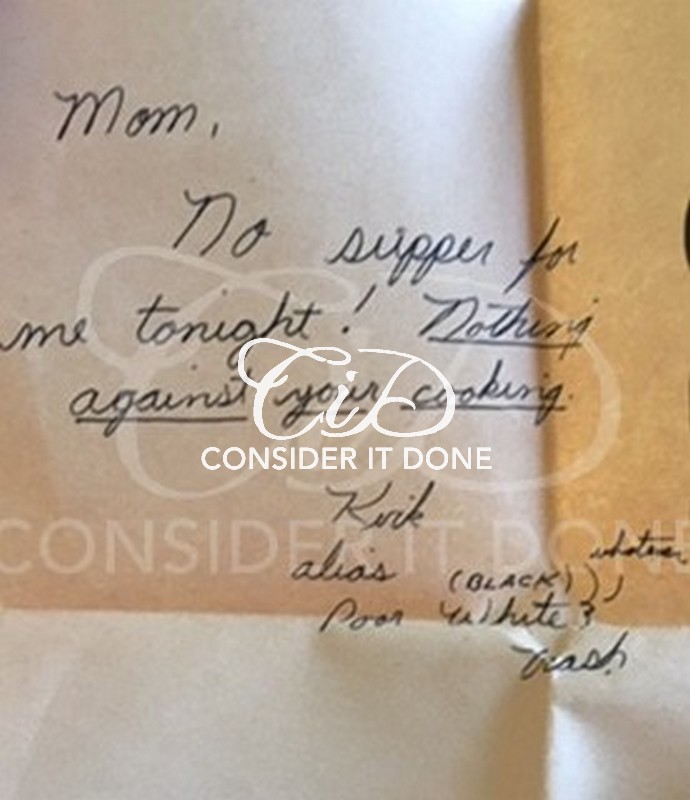 As we have come back to the house for a day or two, I find notes that she has been there. She writes "VHS Sell" or "Papers – shred" , "This is TRASH". The emotions she must feel must be hard, or embarrassing. She left a note on an opened drawer that contained Christmas and greeting cards, that just said "trash" She kept them for all these years to call them "trash" Someone thought enough of her to send a Christmas card or photo and she kept them until they are trash. We have trashed a LOT. We have sorted a ton. And yet with all of that she continues to come back and leave "instructions" for us. She has made this transition to a retirement village, from a home of forty plus years at the age of eighty – two; she still has control, even if that is coming back to get the purse that she still thinks she will use or by granting the permission to sell, trash or shred. She has the courage and strength of a woman I want to be. She is in control and respected by her son and daughter in law, yet she still tells them whose house this really is and what can and can't happen.
This is a new stage of life for this family. A son tells me, "we didn't realize how bad the house is when we visit we mainly stay in the living and kitchen rooms and didn't see the back rooms" She was and still is an elegant lady yet is losing grasp of everyday things. She has packed trash bags of things that is difficult to say if it is going with her or going to the trash. This transition is emotional and scary for her. It is hard for her kids to see her decline, yet still, she handles it with grace. She is dealing with her reality and so is her family.
Life lessons for us all come out of everyday situations like this. It's not good to be oblivious and only look at the surface and think everything is ok. Check in on your parents or grandparents and see how things really are, get the stories that come along with some of the things they have and write down a quote or two that they say. You won't regret it. It is never good to lose hope in each other or ourselves. And even if our reality is a time of transition as we are getting older, and our health isn't as good as it used to be, we still can be graceful and kind.
Lori