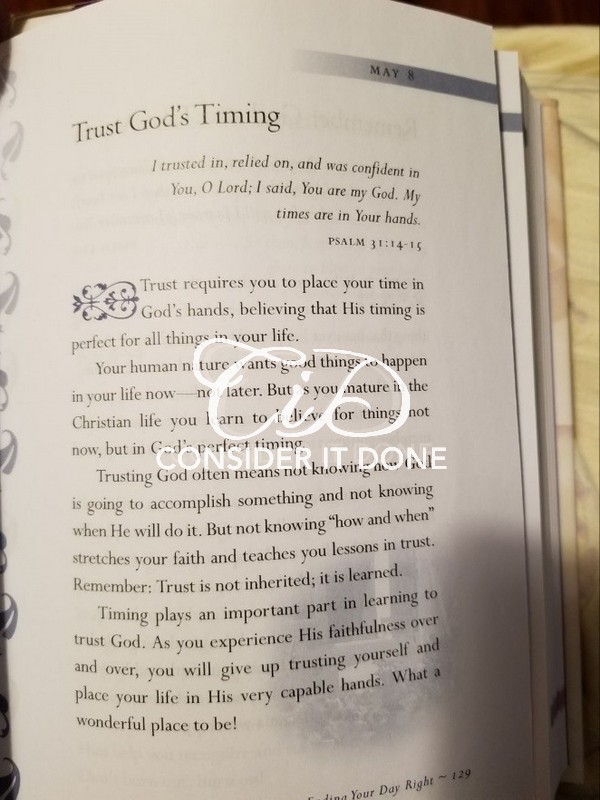 I have made a conscious effort recently to notice the small things that people do that we normally take for granted. Yet within the last week I have heard the message of trusting God in many, many ways. I have listened to sales rep who travels all over to sell magazines speak of trusting God in their lives. I had a client share this devotion, that helped decide about selling a house.
A neighbor who is struggling with teenage children and family member who's version of the "American Dream" is living with less, and having more adventures, and experiences, trusting that God will provide with hard work and diligence to the goals. And potential buyers of a new house, who said to me, "there are a few challenges, but if it all works out, it will be meant to be".
A client who's going through a divorce and her husband stands in the way of the movers until the attorney talks him out of the way. The wife sends me the text that says, " The 3 guys (movers) are sitting on the back porch, talking about hunting while we discuss with an attorney. Wow, this is sooo tough. Movers are great and discreet, and I may need counseling tomorrow! ….. You are such a blessing to me, Thank you".
The client who is having an estate sale at the recent loss of her father and having to trust that taxes and sell of house do not eat her alive, speaks of letting go and trusting in God. And the video message my aunt shared about letting go of anger and bitterness and fear so that we have space for the good stuff in life.
And the stories go on and on… So okay I get the message, I am listening. I apply it to my own life and know that there are many things in life that are uncertain. Learning to trust in relationships, or having the client cancel two days in a row, because of their own life struggles. I find that there is still work to do and have plenty to be grateful for, and know that life is not meant to only be worry and full of fears. I know a lady so fearful she will fall and of all things that could happen outside of her house that she rarely gets out. How is that living? Someone told me recently, "Understanding that being happy is not being full of fears. Live and eat more donuts, not a prisoner to your fears." For all that happens in life, NEVER TAKE FOR GRANTED that God is on your side and wants good for you. He's got your back and if we will trust in that alone, even when we don't know for certain about situations or are scared to let our hearts be vulnerable…. God is faithful to be there and deliver us from all our fears.